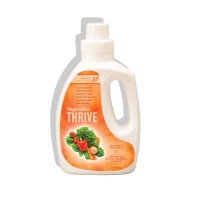 You've seen me mention Thrive, a sponsor, before and asked me about their line of products.
Thrive is a liquid mycorrhizal fungi for your garden.
The analogy that I like to use is that it's a probiotic for your plants.
It helps to set them up with a healthy root system, so they can better absorb nutrients.
Before I get into more detail about mycorasdfajfla (because I know that's how you are pronouncing it), let's learn how to say it.
Here is the phonetic pronunciation: mahy-kuh-rahy-zuhl
Much better. Let's move on.
What is Mycorrhizal Fungi?
I asked Heather, the Marketing and Customer Service Specialist over at Thrive, a few questions and here's what she said about mycorrhizal fungi.
What is mycorrhizal fungi?
Mycorrhizal fungi is an all-natural, beneficial fungus in the soil. It provides the necessary nutrient channels to a plant and it's roots.
What's the benefit of using mycorrhizal fungi in your garden?
Elongates, strengthens root systems and makes them more drought resistant. Because THRIVE uses a liquid Mych you can use it throughout the lifetime of the plant, versus most dry versions that you can only apply when you plant or re-plant vegetation. (ie –you can use THRIVE on 15 yr old houseplants, on ANY vegetation at any point indoors/out).
Mych needs to reach the root system, so if it is in a liquid formula as it is in THRIVE products, you can apply it at any time versus only at planting/repotting.
How do you use it? Does it replace fertilizer?
THRIVE is an all-natural, no harsh chemical product. So you cannot over-treat with THRIVE (but of course you can over-water your vegetation!)
THRIVE is not a fertilizer, but a root stimulator and soil conditioner, helping your plants overall health. It is safe to use with a fertilizer or plant food that you currently use.
Is it safe to use? Are there harsh chemicals and pesticides in it?
THRIVE contains no harsh chemicals and is an all-natural blend of beneficial bacteria and Mycorrhizal Fungi. When used as directed, it is safe to use around children and pets immediately after application.
Is THRIVE certified organic?
We are in the latter stages of becoming OMRI approved (Organic Material Resource Institute).
How often should THRIVE be applied to plants?
Because it is not a harsh based chemical formula, the more you use and the more often, the faster results you will notice! We recommend weekly to start, and then bi-weekly after your vegetation has taken off.
When is the best time to use it?
During the growth season. But it can be used all year around and will only help your plants and vegetation.
Can it be used on seedlings?
Yes – it is great on seedlings – check out our weekly drawing for a free kit with ElDorado Heirloom Seeds.
THRIVE will make all vegetation grow, even weeds, so caution to where you apply it!
Want to learn more about mycorrhizal fungi? Then check out this article from Thrive about how mycorrhizal fungi works.
Don't forget it's: mahy-kuh-rahy-zuhl
Thrive samples and free shipping
Thrive is offering free shipping on all orders and also offering free samples, go their site and take advantage of the offer.
Then head over to their Facebook page, tell them that I sent you and thank them for the samples!