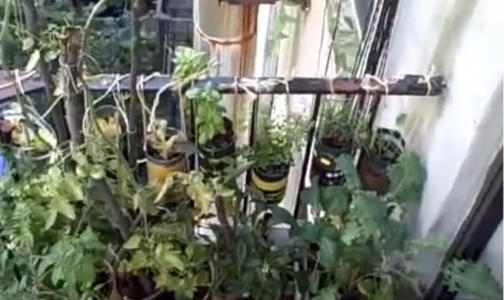 My first urban garden was a fire escape garden set up on the fourth floor of my East Village apartment in New York City. I had this from May 2009 – December 2009.
The landing space of the fire escape was about 2 x 3. There were three self-watering containers that were planted up against the rail. This left over a foot of space on the landing.
The fire escape was actually outside of my roommate's room and wasn't so easy to get into and out of.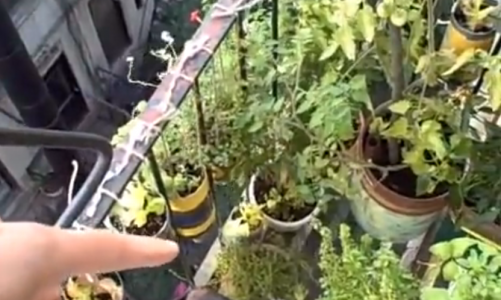 In one of the containers I started out growing lettuces. I was able to harvest the lettuce less than a month after planting. The feeling of being able to trace my produce to my bowl was a bit overwhelming for me.
After the summer season, I replaced the lettuce with kale. I was able to get a few good kale harvests from this container as well. The kale lasted longer into the cold season than I thought it would..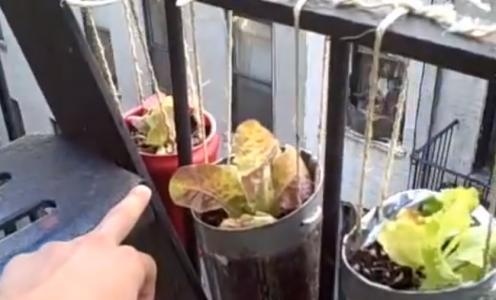 The middle container had red and chile peppers. These produced some fruit, but the yield wasn't very high. Peppers are not something that I would grow given limited space.
The third container had cherry tomatoes planted in it. Once the plant grew, I learned that the tomatoes might be small, but the plant grew to be larger than me. The size was definitely an issue for the fire escape, but the yield was great.
Besides the self-watering containers, I also had about 10 hanging planters made from soda bottles on the handrails.
Even though I had limited space, I was able to maximize it and produce some fresh organic produce for myself.