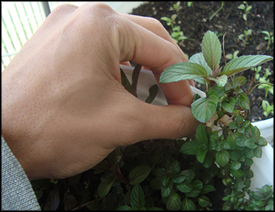 So you've started your urban garden and have your crops planted.
You know that the plants aren't going to grow on their own and that you need to pay attention to them…
…But you are not sure what's next. What should you be doing? How often to water? When to plant more seeds? How to harvest?
This is knowledge that used to be passed down from generation to generation, but has become a lost art over the past few hundred years.
Like this series? Share it with your network here:

Easy Tips and Tricks for
Maintaing Your Urban Vegetable Garden
All of the tips and tricks shared on this page have been successfully used by me and my readers in our urban gardens.
…No need to be concerned though. There won't be any garden jargon used. I use simple to understand language that is supported with pictures and videos. No need to have a dictionary near by or another browser window opened.
These tips and tricks will help you to maintain your garden and allow you to grow more food.
Succession Planting for Growing More Vegetables
Scatter your seed plantings to allow for a continual harvest.
How to Amend the Soil in Your Container Garden
Make sure to keep the plants in your garden fed.
How to Plant
That's just the start…
If you enjoyed these easy tips and tricks, there is more to come. You should sign up for the free Urban Organic Gardener updates.