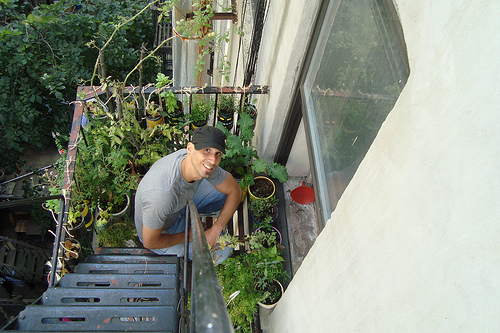 Urban Organic Gardener is the brainchild of Brooklyn native Mike Lieberman (pictured above).
UrbanOrganicGardener.com is about giving you practical container gardening tips to grow your own food so you can avoid toxic pesticides, eat healthier and not feel limited by your lack of experience and space.
Don't worry if you have no previous gardening experience or training. That's why you're here!  You can turn the little space you have (in and around your apartment) into a place to grow your own vegetable gardens.
On a 2×3 fire escape in New York City, you can grow cherry tomatoes, peppers, kale, swiss chard, lettuces, oregano, mint and more.
This site is dedicated to providing your with proof that you don't need to have lots of land or space to be able to grow and regularly eat your own fresh food while not worrying about chemical pesticides…once you know how to utilize the space.
In Los Angeles you can take a 13×4 balcony and convert it into a steady supply of non-chemically treated greens.
Sound interesting?
What Readers Say About Urban Organic Gardener
"I love that you have this site! There are a number of sites that address the organic gardening issue. Yours however shows how to do this for a number of us that have real space limitations and shows it done for pats with there limited lighting. Addressing these issue by showing how it's done it GREAT. Plus us very small food gardeners have you to contact with and know you will be the one responding with practical experience for us to work on with." — Comment left by Cheri on Facebook

"I am so glad I have found your site,love it ! I have been thinking of growing my own vegetables for awhile now & reading & seeing what you have done has motivated me. I do try & buy seasonal organic when I can as I also hate that most of our fruits & vegetables have pesticides. Keep up the great work ! :)" — Comment left by Debbie on the site
More About UrbanOrganicGardener.com
This site has been featured or quoted in some of the following events and publications: