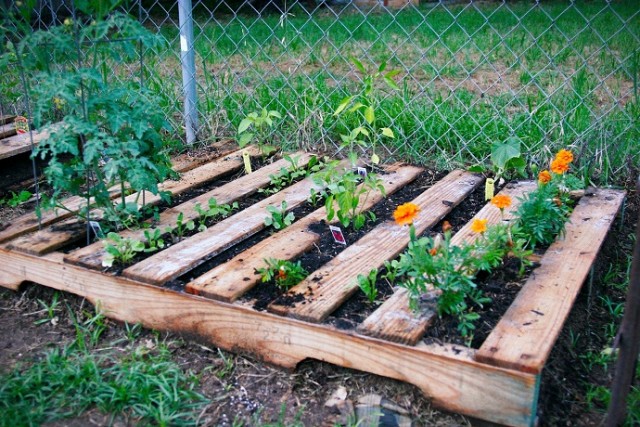 Just came across this post over at jbbardot.com I think everyone should read.  You can read the full article here.  With the constant onslaught of GMOs, pesticides, and chemicals making their way into the food supply, growing food in your home garden has become less of a hobby and more of a necessity. Many people have now begun to grow a large portion of the fruits and vegetables they consume at home, and an increasing number do so without the luxury of vast amounts of land. Food can be grown in just about anything, and all it takes is a little knowledge and effort. Even if you only have an apartment balcony, there are techniques that can help you produce your own impressive harvest, and this article looks at 5 different ways to grow food in a limited space.
Vertical Gardening
Vertical gardening has become fashionable lately with many interior designers including a 'green wall' in office buildings, and they are often used to cover the exterior of museums and galleries to create a 'living art' feature. However, their true appeal lies in their effectiveness for growing food, and they are perfect for patio gardens, balconies, or for anyone wishing to maximize their vertical garden space. Most large DIY stores sell container kits that can be attached to a trellis and then attached onto a wall, or you could even make your own containers using 2 litre plastic bottles or empty plastic pots. For those without an outside space, Windowfarms sell a hydroponic indoor vertical gardening kit that feeds and waters itself, and manufacturers claim it can grow everything from herbs to strawberries in just about any climate.
Square Foot Gardening
Square foot gardening found popularity in 1981 when gardener Mel Bartholomew demonstrated how to grow a substantial amount of food in a container or vegetable bed measuring just 4ft x 4ft, and his technique has been emulated in homes all over the world. Square foot gardening involves dividing the space into 16 different squares and planting different seeds in each space. As each crop is harvested a different plant takes its place, and the tallest plants such as tomatoes and leeks are situated at the back. In his book All New Square Foot Gardening, Bartholomew recommends a soil mixture of peat moss, vermiculite, and compost to yield best results, and regular rotation of crops will ensure fertile soil. This method is perfect for new gardeners as it is easy to maintain and needs only a few materials to start up.
Growing Food in Pallets
Shipping pallets can be recycled into just about anything, and an entire culture has evolved around creating spectacular pieces of furniture using pallets and other pieces of wood salvaged from shipping yards. Pallets also make excellent vegetable planters and are perfect for shallow root vegetables and succulents. Once filled with soil, the pallets can be layered on top of each other and different vegetables planted around the sides and along the top to maximize growing space. They are also ideal for vertical gardens and can easily be fixed to a wall or fence.
Growing Food in Containers
Container gardening is the most popular choice for balcony or patio gardeners, but you are not limited to the usual plastic tubs. Attach a wire from one end of your space to the other and hang baskets filled with cherry tomatoes, lettuce, cucumber, and herbs to make the most out of your air space. For a quirky touch, search your local thrift stores for some large size men's work boots and use them to plant herbs and small veggies, or take an old freestanding bathtub and fill it with carrots, spring onions, lettuce, and kale. Other items that can be recycled to use as growing containers include car tires, laundry baskets, tin cans, and casserole dishes. Container gardens are perfect for those who live in cooler climates as they can easily be brought inside when the winter frosts arrive.
Growing Food Indoors
Even those without an outdoor space can grow their own organic… READ THE FULL ARTICLE HERE: http://www.jbbardot.com/5-ways-to-grow-organic-food-in-small-spaces-for-preppers-survivalists-and-every-day-folks/