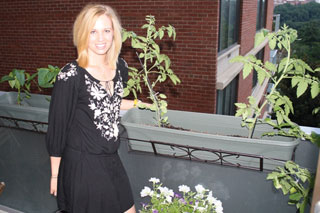 She called her thumbs black.
She said that the gardening gene skipped her generation.
That's what Megan Blevins was telling me on Twitter during the winter.
We Tweeted back and forth about it and I assured her that her thumbs need not be green, but they just needed to be opposable.
(Two things about that sentence. 1) I can't believe that I wrote "We Tweeted…" 2) I can't believe that you understand it.)
That and some additional encouragement was what she needed to get her first garden prepared.
Megan is a writer and first-time paranoid grower.
Here is her story as told by her…
I was an unqualified grower
Despite the fact that I grew up in North Georgia eating the freshest produce grown by my mom and dad, I've never really wanted to grow my own food, because I had convinced myself that I was incapable—incapable of keeping a plant alive, let alone growing a garden.
For example, flowers that I received as presents always died within 24-hours. You could say my "green thumb status" was at an all-time low.
My quest to become a gardener became a personal challenge.
I had run out of excuses to not to grow my own food; I needed to stop complaining, pull up my big-girl panties, and start growing.
And that's where Mike came along.
After months and months of talking about it, a co-worker of mine told me about Mike Lieberman and how he was an urban gardening expert that I could reach out to over social media.
I decided to give it a whirl—and I'll be honest, it was Mike's encouraging words and sincere outreach to me that tipped me over into the gardening world: "You don't need a 'green thumb' to garden, just two opposable ones."
The advice became my gardening motto.
My expertise… or lack thereof
As I mentioned, my prior gardening experience was negative zilch.
Even though I had grown up eating fresh tomatoes, bell peppers, squash and raspberries, I didn't know how to make things grow.
I knew that I needed soil, seeds and water, but it was making them all work together that I needed help with.
I read every single one of Mike's posts on his website. I learned that I needed to germinate seeds weeks before I planted them outside.
Mike's posts helped me determine how much sunlight my balcony received, and how to make my own greenhouse and growing pots. And, I also learned that I don't need a lot of space to grow my own food.
Sometimes, I feel like gardeners are squeezed into a category of "you must live in the suburbs and you must have a huge backyard to be successful;" but that's not me—nor is it most people.
Step-by-Step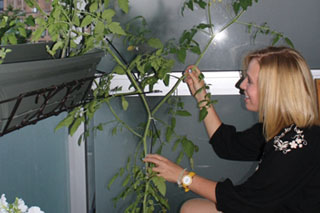 Starting in February, I germinated cherry tomatoes, bell-peppers, mint and jalapenos in my apartment.
I made homemade greenhouses to keep them warm and watered them. I had no idea whether or not I was actually doing this whole gardening thing "right" till five weeks in after my first seed sprouted.
It's silly, really, but I don't know if I will EVER forget what it felt like to see that first sprout.
I danced around the apartment—I may have even screamed to have my boyfriend come over and see.
I felt accomplished and that I was doing something good for myself and for the environment. "My babies" instantly became my pride and joy, especially as they continued to grow.
After fear of the last frost passed, I planted my seeds outside (all except the mint, which never sprouted). I water them every-other-day, and also planted petunias, daises and poppies on my balcony.
Today, my garden is HUGE. I swear my cherry tomatoes grow 3 inches a day and all my guests compliment me on my new skills.
What I have accomplished may not seem like much to some, but for me, it is gratifying. And more so, it is fun.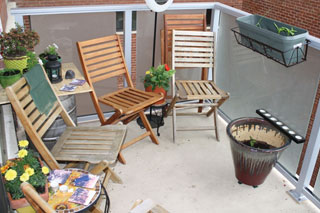 I look forward to spending time in my garden—something I never thought I would say. My thumbs are greener than they're even been, and are now simply waiting to pick the first produce of the season.
Starting your garden is that easy, but…
…you have to get over your fears and take action.
I've been sharing these simple tips and advice since I started this site in 2009.
You've had plenty of opportunity to implement it.
Have you?
Megan did and look at her rewards.
My content contains no fluff. Just simple and to the point gardening advice for beginner's.
But how about you?
What's been holding you back?
In the end, starting your own garden and getting over your fears is possible…
…but you have to take action.