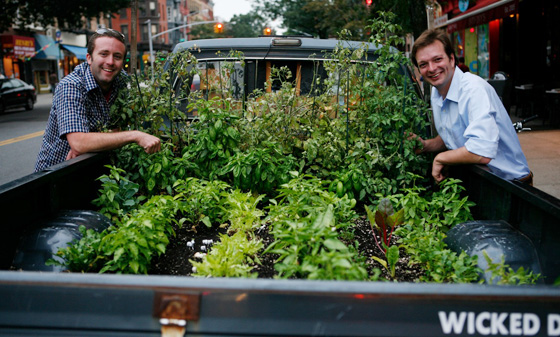 Image source: "Well+Good.com"
Fun and quirky urban farmers tell their story about how they planted vegetables and herbs in the back of a truck's pick-up bed and literally drove around one of America's largest cities.
"The design and installation of the Truck Farm was simple, and took less than a day once materials had been collected, all for less than $200. Victoria Foraker of Alive Structures donated the green roof materials for the bed, with PaulMankiewicz of the Gaia Institute providing the lightweight soil necessary for keeping the truck from buckling under a heavy load."  They ordered their heirloom seeds and once planted, they germinated within a few days.
"A time-lapse camera, powered by a small solar panel atop the truck's cab, captured the progress of the plantings every 5 minutes, thanks to the clever gadgetry of physicist Dan Larsen. Once the seeds started to grow, Ian moved the Truck Farm to find shade on hot days, to borrow a bit of water from the hose spigot of the Italian restaurant down the block, and of course to dodge the street cleaners on Mondays and Fridays."
To read more about America's first "Truck Farm", visit the original article at: "TruckFarm.org"