You are growing your own food because it's best for your health and the environment.
When you are first starting out, knowing where to buy your seeds from can be intimidating.
It's difficult to tell the difference between the companies, types of seeds and who is owned by which company.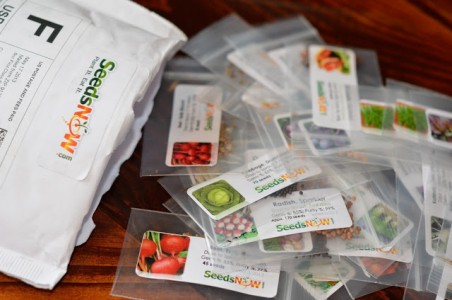 My goal is to not only help you maximize your space when growing, but also to help you save time in the process.
In the past I've looked up seed companies to see which ones provided non-gmo seeds and had no ties to companies that I didn't support.
All I came across were huge lists with lots of descriptions. They didn't save me any time. You've likely come across the same lists.
Seed Companies You Can Trust
That's why I wanted to compile a quick list of seed companies that you can buy from. Again this is a quick list because an exhaustive one wouldn't save you any time.
SeedsNOW.com
SeedsNow is a family owned business right in Los Angeles that provides 100% Pure GMO-FREE Non-Hybridized/Heirloom seeds. All their seeds are raw and always un-treated. Without getting into the specifics, the seeds they have are the most natural most pure form of seed you can get.  Knowing that their site doesn't offer any hybrid seeds is a really good thing for me.  With their heirloom open-pollinated varieties I know that I'll be able to save my seeds after harvest. Can't do that with hybrid or GM seed!
One of the things that I like most about SeedsNow.com is that they have seed sampler packs starting out at  99¢. At those prices you can afford to try growing a lot of different things.   A lot of people don't know this but their "sampler" packs actually have the equivalent amount of seed (or more) than regular sized packs form other companies.
They have a huge variety of NON-GMO seeds for you to start growing your own food. Definitely a site worth checking out:  www.SeedsNow.com
You can get 10% off your SeedsNow.com purchase by using the code URBAN10.
Botanical Interests
Botanical Interests is one of the larger seed supply companies that you might've seen in your local health food store.
One of the things that they are most well known for is the art on their seed packets.
Their seed packet collection is also quite extensive. You can spend hours pouring through their catalog.
Seed Savers Exchange
I have never used Seed Savers Exchange before, but a lot of you have recommended them before, so I added them to the list.
These three companies should give you a good start for buying your seeds online. Yes, there are dozens of other companies that can be added to this list, but that wouldn't save you much time.
Your turn
Have you purchased from any of these companies before? Who else would you add to this list? Let me know in the comments below.