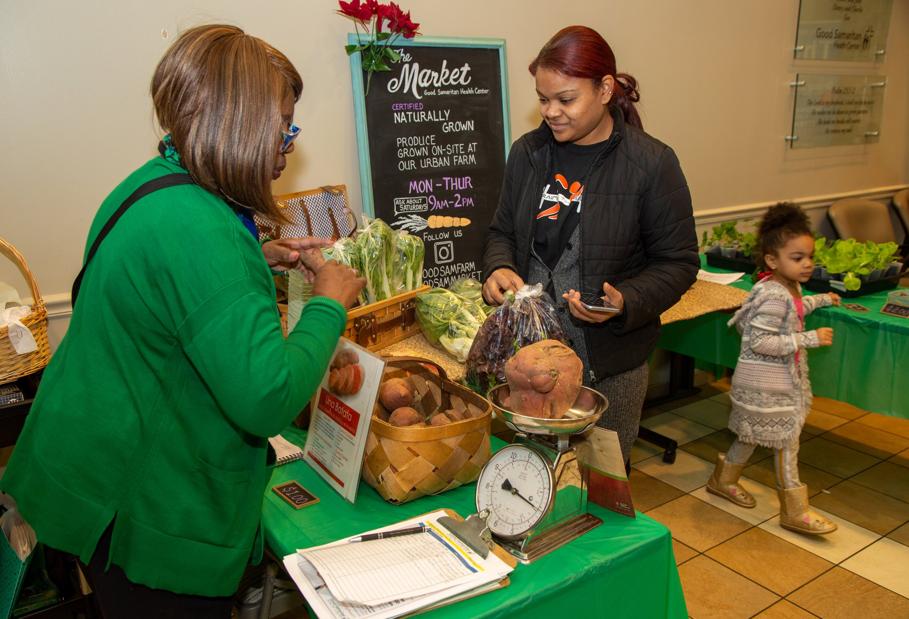 Nobie Muhl braved the wind and rain that signal the approach of winter in metro Atlanta to tend to the strawberries, onions and garlic growing on 1 acre of land just off Donald Lee Hollowell Parkway in Bankhead. As full-time farmers at Good Samaritan Health Center, Muhl, 33, and Alexis Haggerty, 25, didn't let the dreary weather dampen their enthusiasm for making sure patients at the center have access to fresh produce almost all year round.
At the center, clients waiting for appointments browsed tabletops filled with an assortment of fruits, vegetables and nuts including strawberry plants, pecans and a variety of greens, all of which were priced at $1 or $2. Anileidi Gomez, 31, examined giant sweet potatoes, a favorite of her four children, as Market manager Loren Ferguson offered a recipe for slow cooker sweet potato soup printed in English and Spanish.
"It's awesome. I always shop here when we come," said Connie Lotze, 62, who drives over an hour from North Georgia to bring Jim Nelson, 60, to his appointments at the health center. She helped Nelson, who doesn't have insurance, find the center years ago, and while they don't come often, the Market is a highlight when they do. Lotze said she had never seen a health clinic with its very own farm and market.
READ THE FULL STORY: https://www.ajc.com/lifestyles/just-what-the-doctor-ordered/nAuZKvENoVEGGfP4bBYtFM/