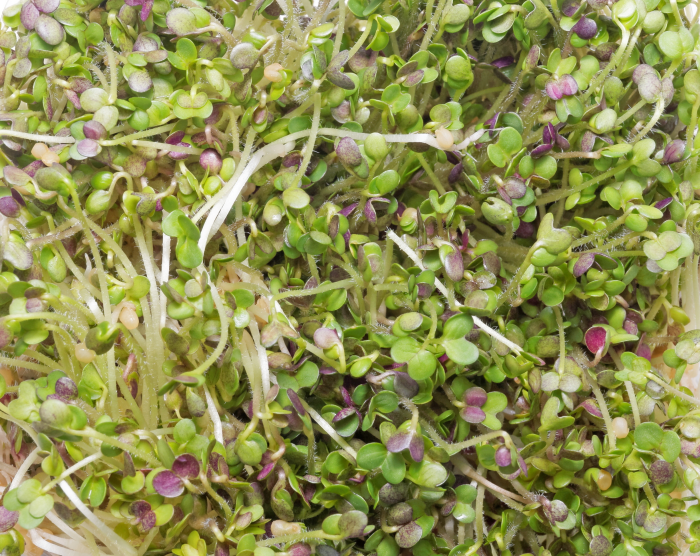 Growing sprouts is an easy way to still grow some food during the cold winter months if you're unable to get out and work the soil in your garden.  Not only do they taste great, but you can be harvesting sprouts to eat in as little as 3-5 days! They are delicious on sandwiches, salads and stir-fry's.
The most common sprouts that people are growing these days are:
Things you'll need to start growing:
A wide mouth container or mason jar
Seeds
Water
Cheesecloth
Rubberband
How to start growing your sprouts:
Place 1 teaspoon of small seeds into a clean jar and place about 1 cup of water inside. (If you're sprouting adzuki beans, use about 1/4 cup)
Let seeds soak overnight or for at least 12 hours.
Place the cheesecloth onto the top of your jar or container and secure with a rubberband. Now drain the water from the container.
Rinse the seeds with clean filtered water and then place the jar upside down on an angle so that the excess water can drain out easily.
Repeat the last step, several times a day until all of your sprouts have germinated and started to grow.
You'll be ready to harvest your fresh sprouts in about 3-5 days.
When you're ready to start harvesting, rinse one more time with filtered water, drain and store in an airtight container inside of the fridge for up to one week.
Start growing your own sprouts even faster and with less hassle by purchasing this kit from SeedsNow.com:
What's Included:
32 oz. Glass Mason Jar with Sprouting Lid and Mesh Screen
6 of our most popular seed sprouting varieties
Over 1 lb. of sprouting seeds
Step-by-step sprouting instructions
Resealable Mylar packaging for long-term seed storage
Original post can be found at: "SeedsNow.com"