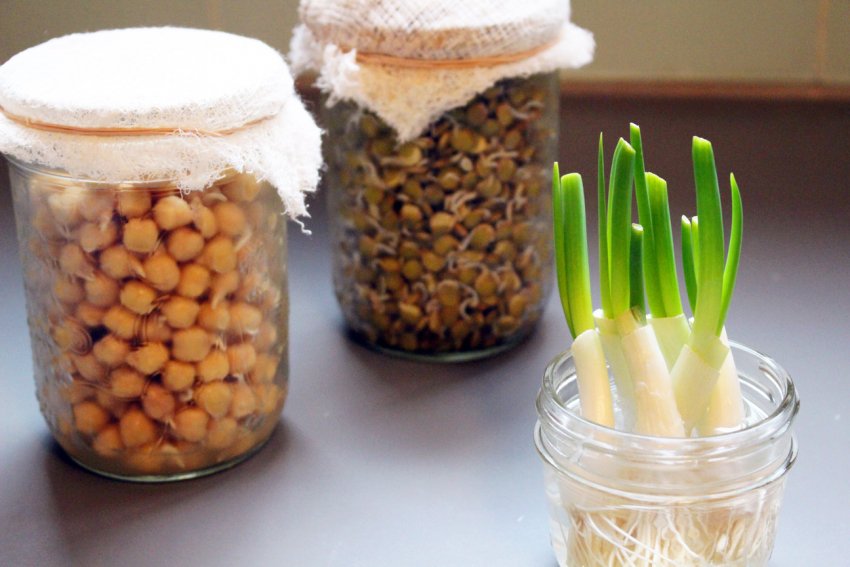 Photo by Rebecca Cuttler
Do you lack outdoor garden space? Are you an apartment or condo dweller who is wanting to start growing some of your own food?  Even YOU can grow nutritious food at home without a backyard or any raised garden beds.
"Growing food, even if it's a small amount, is a beautiful, fun and creative experience. The subtle shift from being a consumer to being a producer can have profound effects. These activities may not give you the same yield as a full-size, outdoor garden, but they can spark the excitement that comes from connecting with our food." Source: Rebecca Cuttler
Grow sprouts. Growing sprouts at home on your kitchen counter is a great way to grow a little food year-round even if you've packed up things in your outside garden because of it being winter.
Re-grow green onions.  Onions can easily be re-grown from scraps by cutting the root end of your onion. Leave 1/2 inch of onion on the roots and place it in a sunny window.  Place the onion in a shallow bowl or mason jar. Keep a small amount of water on the roots at all time and spray the tops of the onion 1-2 times a week so that it does not dry out.
Grow mushrooms. There are many products on the market today that have everything you need to start growing your own mushrooms at home.  Choose a variety you like and follow the manufactures instructions.
Grow basil or other herbs on your windowsill. Indoor herbs need as much light as possible. Try placing your herb box or planter in a bright window with at least 4 hours of sunlight every day. Because most herbs are happy with temperatures that are commonly found inside homes, they should do well.
Use an indoor herb or vegetable growing kit. You can purchase an indoor hydroponic grow system and grow everything from peppers, tomatoes, herbs, lettuce or leafy greens. 
Original post can be found at: http://www.vancouverobserver.com