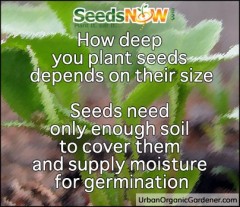 Seed starting.
Who thought that it could be so intimidating…
..but there are lots of questions and things to take into consideration when starting your seeds.
We've already covered some basic seed starting tips and tips for those of you starting indoors, but I want to make it even more simple and basic.
Because that's how I do.
One-liners to help you start your seeds
On the Urban Organic Gardener Facebook page, I've been sharing gardening tips.
They've been pretty popular, mostly because I think they are so simple to follow and easy to remember.
I thought that they'd make for a great post…so here they are:
Thanks to my sponsors SeedsNow.com and Thrive for the tips.
Your turn
"Share" this information with your friends and family to help them to get their seeds started.