Today I am going to show you the easiest way that you can start to grow your own food.
And you won't need any outdoor space…
You just need a spot on your kitchen counter.
I am going to share with you how to grow your own sprouts indoors.
No need to buy fancy gadgets or machines. You can do this on the cheap.
You ready?
Let's do it!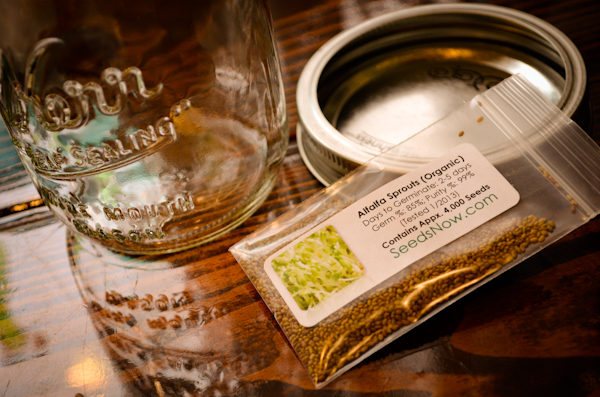 What you'll need to grow your sprouts
Cheescloth or another breathable cloth
Canning lid or rubber band
Steps to grow your own sprouts
The first thing to do is to soak the seeds for 8 hours in the mason jar. I prefer to do this right before I go to bed to let them soak overnight.
The next morning, put the cheesecloth over the mouth of the jar and secure it with the canning lid. Drain out the water. Refill with water to rinse the seeds and drain again. Place the jar out of direct sunlight at an angle in a bowl. This will allow the rest of the water to drain.
Repeat the previous step every 8-12 hours (about 2 times per day).
Generally it'll take 5-7 days for them to be ready to eat. The seeds are ready to eat as soon as they start to sprout. Just rinse and drain them one last time before you store them in the fridge.
Sound off
What is your favorite sprout?