Rodale.com has dubbed this month Plastic-Free February. From their site:
We're going plastic free in February—or at least, trying to. Follow our efforts, share your advice…and join us if you dare!
After reading the difficulty that my fellow bloggers Christa and Theresa have experienced and what rock star Michael Nolan is already doing to reduce his dependence on plastic, I felt inspired to get involved.
To start I wanted to share with you what I'm doing to avoid plastic in my kitchen to cook and store food. There are definitely some areas that need work, and hopefully you can help me out with those.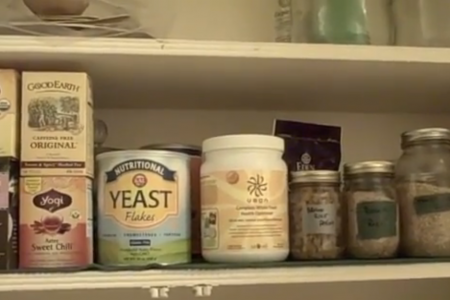 The reasons to avoid plastic when it comes to cooking and storing your food are for both environmental (plastic can take up to 1,000 years to decompose in the landfill) and health reasons. Yahoo! Green has a good story on which plastics to never use with food.
Cookware. This is the area that I need the most help in. Nearly all of my cookware is non-stick. I need to change over to cast iron and stainless steal. Read more about the dangers of using non-stick cookware from NaturalNews.
Kitchen appliances. I nearly used my food processor, juicer and Vita-MIx all on a daily basis. They are all almost completely made from plastic. I'm not sure of any alternatives for these. Anyone?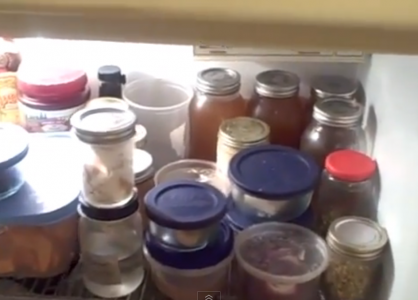 Freezer. My freezer is the area where I (re)use the most plastic in the form of Ziploc bags. They are what I store my scraps in to make my veggie broth. Not sure of alternatives for that.
Also the wheat and gluten free bread that we buy comes packaged in plastic. I know you can buy bread with no packaging at the farmers market, but not sure if they have wheat and gluten free.
Spices and bulk goods. Lately we've been buying items in bulk from our local co-op. This includes spices, grains, nuts, seeds and flours. We've been bringing out own glass jars to load-up. It winds up being cheaper and cuts down on all of the wasteful packaging.
Single-use plastics. There are a few scattered items that we have that were impulse or convenience buys that came in plastic packaging like sea salt and buckwheat. These are definitely items that could be bought in bulk.
Glass jars. We intentionally buy certain items in glass jars, like applesauce, so that we can reuse the jar afterwards. We now have a pretty big collection of jars that we are always reusing.
Herbs. Pretty much everything in my fridge is stored in glass jars, except for the herbs. We continually reuse plastic bags to help keep them fresh.
That's what my almost plastic free kitchen is like. Does anyone have any suggestions for food processor, juicer and Vita-Mix alternatives? Or of another way to store the herbs?
You can check out the video below for a more detailed look.