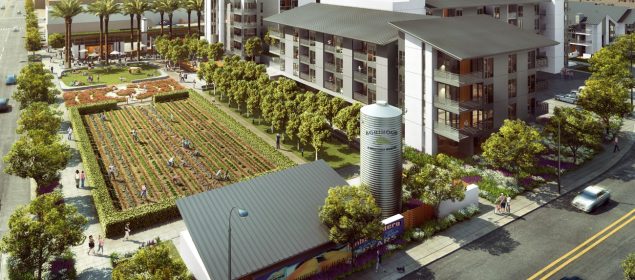 "A real estate development in the works for Silicon Valley is bringing together affordable senior housing with an urban farm, as part of the "agrihood" movement. The project exemplifies the growing trend of combining farming and senior living, as well as the trend of multi-generational housing.
An agrihood places agriculture right in the midst of residential neighborhoods. The concept has gained in popularity over the last several years and seemed a natural fit for a 6-acre parcel of land in Santa Clara, California, said Vince Cantore, senior development manager at The Core Companies. Based in nearby San Jose, Core was awarded the site through a request for proposals issued in 2015, and now the integrated development and construction firm is in the last stages of the entitlement process.
"We're paying homage to the past history of the site," Cantore told SHN.
The site — 17 acres in its entirety — was previously used by the University of California to conduct research on agricultural best practices. The real estate also included housing constructed in the 1920s to house widows of Civil War veterans."
READ THE FULL ARTICLE AT: "SeniorHousingNews.com"