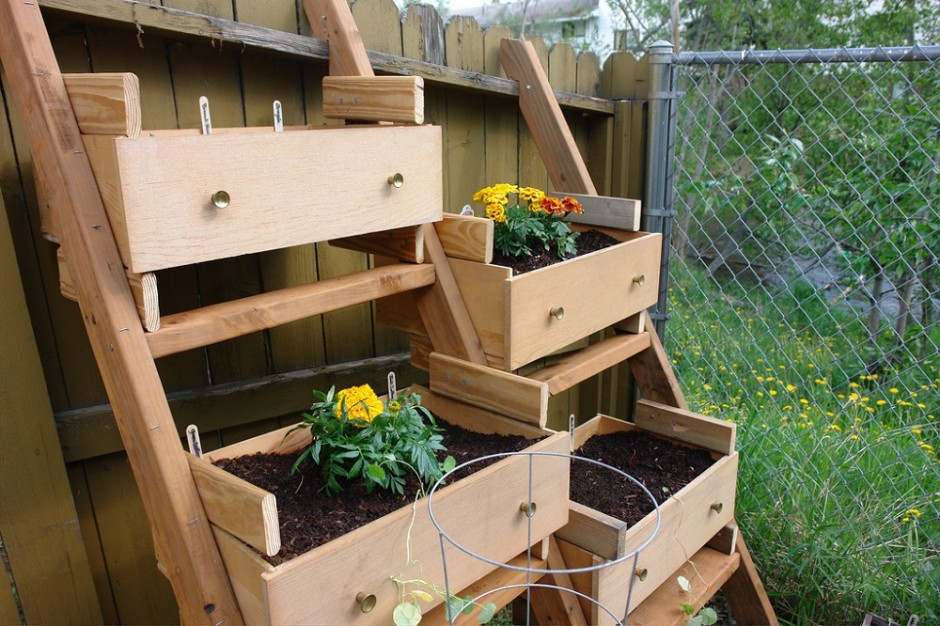 Old dressers are easy to come by and for balcony gardeners or anyone who's wanting to grow more food in less space by creating a vertical garden, this project might just be for you!  "Making a container garden from up-cycled dresser drawers is pretty simple. You'll want to start with a plan. Things you'll want to consider…
Where will the container garden go? This will depend heavily upon what you plan to plant.
Do the plants you want to grow thrive in full sun, partial sun or shade? Also keep in mind that the drawers lend to a very shallow growing space. Plants that can thrive with less depth include lettuce, herbs, strawberries, cucumbers, onions and radishes.
Once you know what you want to plant and where your garden will grow, it's time to inspect your drawers.
Are they sturdy enough? If not, reinforce them.
Have they been treated with any sort of paint, stain or chemicals? If so, you'll probably want to sand them down or use some sort of a liner that will act as a protective barrier.
Next, you'll need to drill holes in the bottom of your drawers so moisture has somewhere to drain out. Now it's time to fill your new dresser drawer vegetable garden with potting soil. Be sure to add some of your homemade compost to give your veggies an extra boost!
At this point, you're finally ready to plant your seeds. Be sure to read the instructions on the seed package and properly space the seeds so your plants have room they need to thrive."
Read the full article and find more step-by-step instructions here: "Earth911.com".