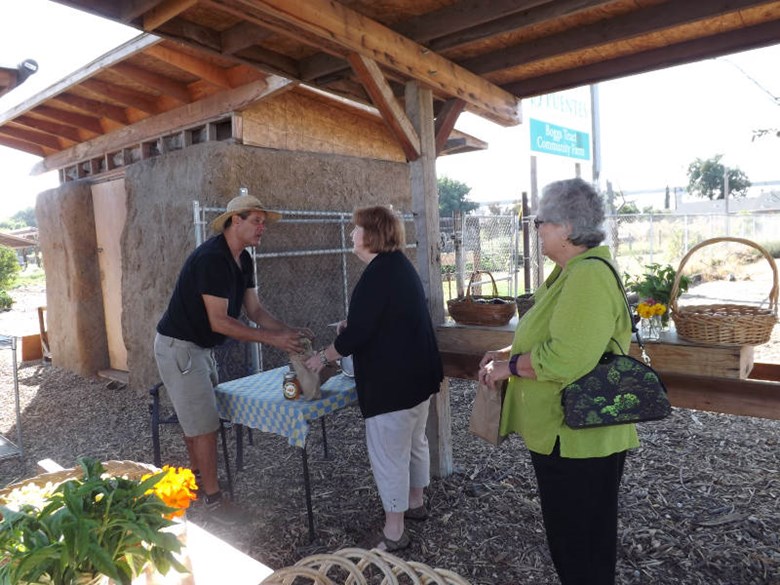 This post is originally from capradio.org
An urban farm in Stockton may serve as a model for the Central Valley. The non-profit group "Puentes" built the Boggs Tract Community Garden on a three-acre plot in a poor neighborhood where garbage had piled up for years.
Puentes Director Jeremy Terhune says the organic garden allows more than two dozen families to farm their own 20-by-20 foot plots with seed, water, and compost provided to them.
At a fruit stand on the Boggs Tract Community Garden, Sally Edmonds buys fresh organically grown produce.
"I bought some tomatoes and some zucchini," says Edmonds.
Puentes leases the land for a dollar a year from the Port of Stockton.
Puentes Director Jeremy Terhune says the community garden gives people everything they need to grow their own food.
"Each family gets a 20-by-20 foot garden plot, and we give them all the free organic compost they can use, free water, seeds, training and everything they grow in the plot is theirs to do with as they wish."
Jesse Hughes, a volunteer, is chopping down weeds on his garden plot. Hughes says he shares what he grows.
"You find joy and peace when you able to help and reach out and touch others in the community that's sometime less fortunate because sometimes it's very hard to even put food on the table."
Volunteers are building an outdoor kitchen, and raising produce for home delivery.
Across the street another three-acre plot will become the next urban farm.
Puentes hopes to develop urban gardens in other cities as funding becomes available.
Read the entire post here: http://www.capradio.org/articles/2015/08/27/stockton-urban-garden-nonprofit-provides-fresh-produce-in-poor-communities/