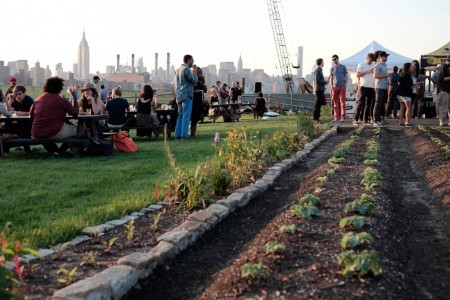 This post is originally from munchies.vice.com
If you walked along the Manhattan side of the East River sometime in the last 100 years and cast your eyes across the water, you likely saw it: a grimy white building adorned with a big, yellow "Domino Sugar" sign—an emblem of another time.
At the height of its success, the Williamsburg factory refined over half of America's sugar supply and employed around 5,000 people; the foundation of your grandmother's cakes and your favorite breakfast cereals were likely sugar-spun inside those walls. Following a long labor strike, the factory closed its doors for good in 2004, leaving a symbol of American industry to crumble and decay as the neighborhood around it transformed. Glossy high-rises replaced factories; upwardly mobile young people replaced drug deals and working-class residents. Last year, artist and provocateur Kara Walker erected a 75-foot-long black female sphinx made entirely of bright white sugar inside the factory and called it "The Subtlety," though it was anything but subtle. It was a pointed critique of America's addiction to the sweet stuff, and who and what was sacrificed in order to make it.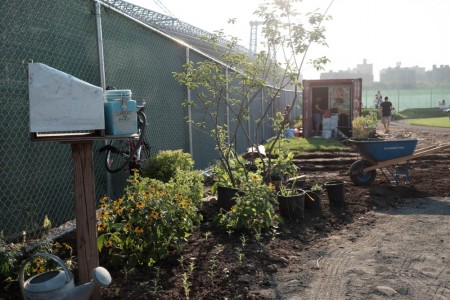 This past March, despite the outcry of locals and preservationists, construction workers tore down the Domino Sugar Factory, leaving nothing but molasses-covered rubble and, for the first time since 1882, a clear view across the river. This being Williamsburg, the clear view won't last long: Two Trees, the developer responsible for turning DUMBO into the highly coveted, highly priced neighborhood it is today, is building a $1.5 billion complex on the land. The plans include yet another shiny high rise as well as a mixed-use commercial space in the adjacent, still-standing brick building, and five acres of public park along the river.
There's still two or three years until that park and the adjacent apartments and offices materialize, but change is afoot on this stretch of land on the Brooklyn waterfront, which Two Trees has leant to a for-profit enterprise called North Brooklyn Farms. Spearheaded by two young urban farmers, Henry Sweets and Ryan Watson, the farm's team of volunteers and their stable of shovels, repurposed building materials, and plants have been doing a delicate dance with one of Brooklyn's most ambitious developers for the past three years. They're growing okra, arugula, eggplant, kale, cucumbers, tomatoes, cut flowers, and vines—all without knowing how long they'll be able to hold on to their patch of soil.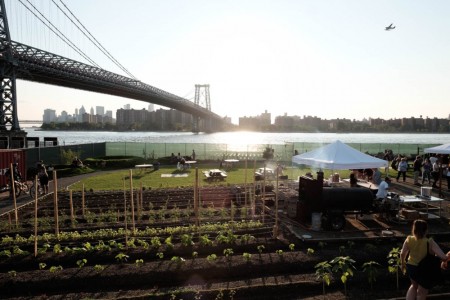 Until this summer, the farm has been planting food on a smaller, squarer plot of land just across Kent Street at South 4th Street known as Site E, which had been sitting empty behind chain link fence for almost ten years—a familiar site in New York. David Lombino, the director of special projects at Two Trees and a lifetime New Yorker, still bitterly recalls the unused construction sites of his youth: the developer Sheldon Solow's long-untouched lot along the FDR highway; a former Gimbels department store on 86th Street; a Bloomberg Towers building on 58th Street that was left vacant for a decade. "This city is littered with sites that lay fallow for a few years before construction," he told me.
Site E didn't have the waterfront access or the crystalline views of Manhattan that the new farm plot does, but when Two Trees offered the Sugar Factory's former parking lot up for proposals from the community in 2013, Watson and Sweets jumped at the chance to shape a little corner of their city. The two men are no strangers to farming: Sweets, whose long hair and full beard make him the portrait of a Brooklyn farmer, is a native of Kentucky who worked in landscaping and gardening in his home state before apprenticing at Stone Barns, the farm and educational center in Westchester, in 2011. Watson, tan and tousle-haired, worked previously at the Greenpoint Waterfront Association for Parks and Planning. The two met while working at an urban farm in Battery Park City in 2012, and before long began looking for their own growing site. In the fall of 2012, the city denied Watson's proposal to grow vegetables on a narrow plot of land behind Williamsburg's McCarren Park pool. When they were awarded Two Trees' temporary land in October the following year, they knew they'd hit green gold, though their contemporaries weren't as sure.
"Initially, when our proposal was approved, people in the urban-farming community were like, 'Why would you want to farm for a year?' They thought we were crazy," Watson said of their Site E project, which they farmed for two years. "But we knew the impact it would have. We knew it wouldn't matter if it was only for one year. We changed kids' experiences of their city." 
Story continues here: http://munchies.vice.com/articles/a-temporary-urban-farm-grows-in-brooklyn