Urban Organic Gardener Interviewing Rob from "Bits Out The Back":
How would you quickly describe yourself to others?
I'm a stay at home dad that's very interested in growing as much nutritionally dense food as I can to help improve our health and reduce our dependence on the industrialized food system. We live in SE Queensland Australia in a subtropical climate and are lucky enough to be able to grow 12 months a year. Most of our food is grown in self watering wicking/sub irrigated garden beds but also have an ever expanding aquaponic system that has been pumping out a lot of herbs, greens and tomatoes of late. We also have 3 chickens that we quite happily feed scraps to and in return they provide us with a couple of eggs a day.
How did you get started with your blog/facebook page/etc?  
I initially started to post on our "Bits Out the Back" blog that was mainly focused on how we were setting up our small garden patch.  Friends and family were interested in seeing more of what we were doing, so I started to post Vlogs (video blogs) onto our YouTube channel to share with them. I found video to be the easiest medium to show what was happening around the patch as many of my relatives and friends live interstate. I think video helps people get a better idea on how to replicate some of the projects I do, especially intricate ones like the aquaponics, chicken feeders and wicking bed builds.
I started our Facebook page and Instagram account as an extension to our YouTube channel. People were interested in our harvests and daily goings on around the patch and I found using Facebook, Instagram and G+ sites were a great way to do small mini updates for them.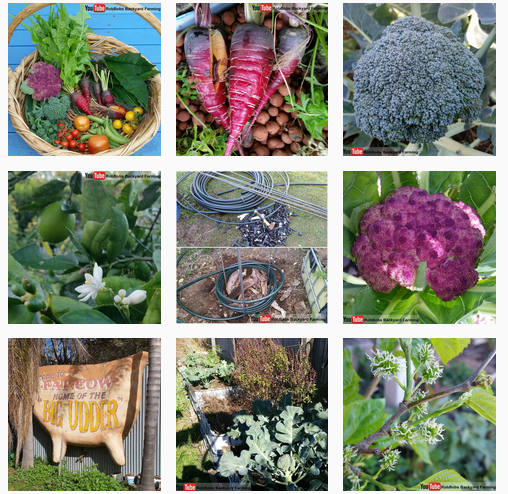 visit "Bits Out The Back" on Instagram!
Did you start your blog when you started your transition to live this life style?  
Growing up my grandparents on both sides of the family had quite impressive vegetable gardens and were able to provide the majority of the veggies and fruit for themselves as well as pass on excess to family.  To me this was a normal way of life and only when I got older did I see that many folks did not grow their own food or had stopped, becoming disconnected to how their food is grown/raised.
I started looking at growing food seriously in my mid 20's when Bianca and I started living together. We had no internet then and only just really plodded along getting inspiration from self sufficiency magazines and making phone calls back to my parents when we needed advice. After we were connected to the web a whole new world opened up and I started to get inspiration from all over the place.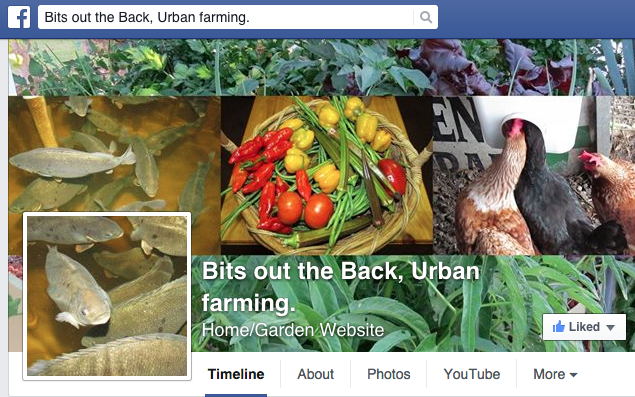 Bits Out The Back is on Facebook! Give 'em a "Like"!
Have you always been growing your own food?  If not, what sparked your passion? 
I grew a few plants like basil, tomatoes as well as salad greens just before Bianca and I started to live together in the mid 90's. We didn't seriously try to grow a lot of food until after our first daughter was born in 1998 when we started a rather substantial container based veggie patch. Gotta love rentals.
A few years after buying our small urban property we decided to turn a lot of the backyard to food production. We decided to do this, not only help ease the grocery bill but to also provide us with food that tasted a lot better and hopefully more nutritious than what was on offer in the local stores.

"Brain Tomatoes" grown organically on the Urban Farm
Have you ever made mistakes or failed doing something?  How did you overcome any obstacles?
😀  I've made MANY mistakes and had a few quite spectacular crop failures since starting out.
Our first raised garden beds were a bit of a mistake. We had bought in soil from a landscape supplier to fill our garden beds, added in some clay Wetpot irrigation devices, planted out our veggies and all was growing great for the first few months. After 2 or 3 months the plants started to look a bit wilted and we started to get the odd 1 or 2 that mysteriously died off.  On closer inspection it turned out that roots from our mango and some Chinese elm trees growing on the fence line had decided to take over the beds depriving the veggies of their water. We were also facing heavy water restrictions at that time, due to drought (similar to California is now) and after some research we decided to rebuild all the beds and turn them into water efficient wicking garden beds and haven't looked back since.
Have lost whole tomato and capsicum/sweet pepper crops to the pesky Queensland fruit fly along with quite a few brassicas crops to the dreaded cabbage butterfly. We did a bit of research and found methods that work for us (exclusion netting) to save the crops now but it was a very steep learning curve at the beginning.
Through all our misadventures we have learnt a lot and found many like minded folks out there that have helped us out.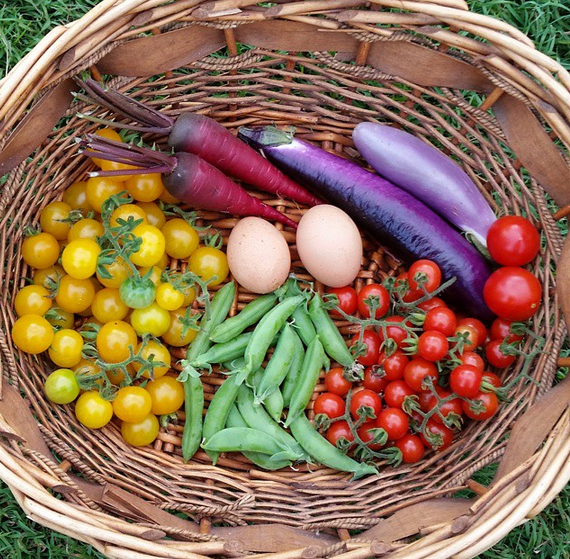 A regular "picking" from Rob's Urban Garden
Have you ever dealt with a person who disregards your life style?
Have come up against a little bit of resistance from extended family members but nothing too serious. What I find more shocking is the couple of times I have had people ask me if we were allowed to grow our own food. I must say it took me very much by surprise and really shows how disconnected some people have become to believe they are not allowed to grow food.
What are some of your greatest rewards with a lifestyle such as the one you live?
The greatest reward would have to be being able to provide nutritious fresh food for the family that has been grown free of toxic chemicals.  That it takes less than 15 min for that food to make it from plant to plate is also a bonus. 😉
Being able to share how easy and rewarding it can be to grow your own food with others via the WWW is something that I'm grateful for.  Not only have we learnt from others but have also made dozens of friends along the way. I love that I can ask questions or get inspired by their posts no matter where they live in the world.
2 Jade Perch raised in their own aquaponic system.
What tips and tricks would you like to share with other people? 
First tip I would give anyone looking at growing their own food would be to start small and start now. I can guarantee you that once you've tasted your first tomato and basil on a homemade pizza, you'll be hooked.
Don't be disheartened if it doesn't work. Have made plenty of mistakes here and have found that they are a great way to learn. I try not to take life to seriously, laugh off all the mishaps and try again.
Make your own compost and feed the soil is the best practical tip I could give. That's one lesson I wish I'd learnt when I first started.  It would have to be the best ways to help you grow nutrient dense healthy food while recycling waste and feeding the soil at the same time.
What are some of the other things you would like to have other people understand about living a healthier and self-sufficient life style?
I find it extremely rewarding to be able to say I'm responsible for the production of a portion of my own healthy and nutritious food, something that only 2 generations ago was a given for a lot of families.
Starting off a garden is also a great way to educate kids and the local community as to how easy it is to be able to provide for yourself. Our garden has helped create these types of conversations with visitors, neighbors, friends and family, and has also inspired some to create their own gardens, which in-turn has gone on to inspire others to have a go at growing their own.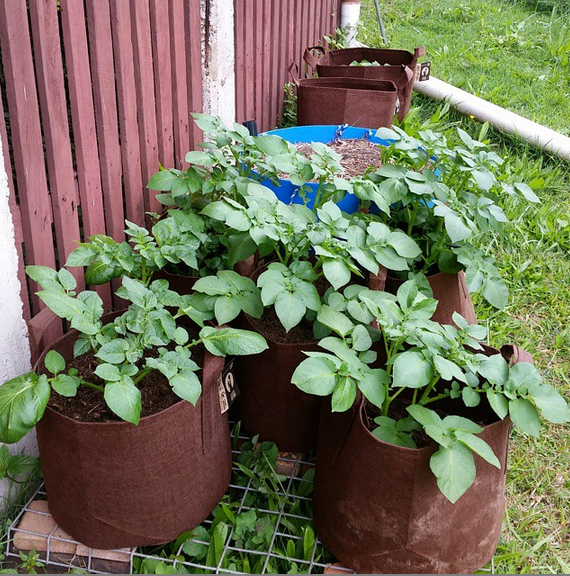 What are your favorite plants to grow in the garden?
That's a hard question as there are so many. Some of my favorite plants to grow at the moment would have to be greens like Okinawan spinach, kang kong, sweet potato leaf, rice paddy herb, Thai basil, Chinese cabbage. All of these veggies go into a very quick and fresh Asian inspired salad I like to make. The ginger spice family is another group of plants I love to grow. Broccoli and cauliflowers are also favourites. We only get to grow them during winter here so have been eating quite a bit over the past few weeks.