In Columbus, Ohio there is a three acre plot of farmland devoted to healing people through a program called "Garden of Hope".   There you'll find fruits and vegetables being grown by cancer patients and cancer survivors.  Growing and harvesting their own organic food improves their health while reducing their risk of future cancer recurrences.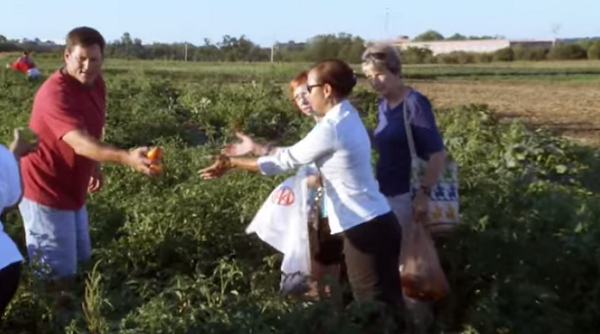 "After four months in our program, our survivors decreased their weight, fasting glucose, non-HDL cholesterol, and increased physical activity and skin carotenoids. In addition, they improved overall adherence to anti-cancer dietary patterns," said Dr. Spees. "Not only do our survivors have weekly access to fresh fruits, herbs and vegetables, they learn why we recommend these cancer-fighting foods and how to safely prepare them. Participants also have access to nutrition experts both on and offsite that provide additional support and guidance."
Gardeners are brought to the Garden of Hope several times a week to harvest and plant new crops.  The produce changes seasonally of course and they even offer things like cooking demonstrations to show how all of the food they are growing can be prepared and eaten.
"Having cancer brings everyone to the same place. The same fight. The Garden of Hope gives you a break from focusing on the fight. I get excited thinking about who I will see there, what vegetables are ripe, and what I'll learn how to cook that night. Nobody has a bad day in the Garden," said Anne, a self-described foodie, Growing HOPE study participant and breast cancer survivor."
Original post can be found at: "Newswise.com"