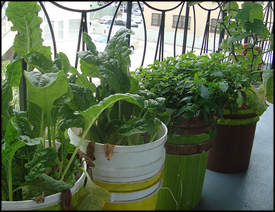 Since I started apartment gardening, I've been using self-watering containers.
I make them using recycled materials, so they are inexpensive.
They also work really well.
Since I'm interested in showing you how to grow your own food in limited space, I want to show you how to start your own self-watering container garden.
Like this series? Share it with your network here:

Why Container Gardening Makes Sense
Here's what's up:
You don't have much space or want to utilize a smaller outside space like your deck or patio.
And since getting your hands on 5-gallon containers is easy and inexpensive, anyone can use them and they fit nicely in most locations.
When is the perfect time to get started with your container garden?
Now. There is no such thing as the perfect time. There is only now. Here are some articles to get you started.
Self-Watering Container Basics
Making Your Self-Watering Container Garden
Maintaining Your Self-Watering Container Garden
That's just the beginning.