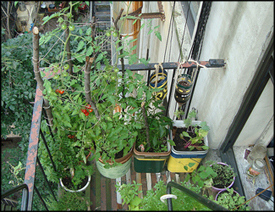 Live in an apartment and want to grow your own vegetable garden?
You think that you don't have the land, space or money to…
…But you don't have to have any land and don't want to invest lots of money to be able to grow your own vegetables in your apartment.
How can you start your own apartment vegetable garden and maximize your small space?
Like this series? Share it with your network here:

Getting Started:
How to Start Your Apartment Garden Today
Everything that you are going to read here is from my own personal experiences from creating my fire escape and balcony gardens…
…No need to worry. It's not going to be bogged down with any garden lingo that you'll need a dictionary to decipher.
The articles use simple to understand language, instructions and explanations. You will be able to read them and actually be able to start creating your own apartment garden.
Here are some articles to get you started:
There are several options for spaces to start your apartment garden. Here's seven of them.
Figuring out how much sunlight your garden gets will help you to select what to grow.
Since I get minimal sunlight, am growing in containers and use lots of greens that's what I'm growing most of. Answer these questions to help you figure out what you should grow.
If you are apartment gardening, space is a big issue. These containers are simple to make, easy to maintain and won't cost you lots of money.
And there's more to come…