How to Cook Eggs in a Muffin Pan
By Lisa Myers, eHow Contributor
Baking eggs in a muffin tin is a very convenient way to cook a nutritious meal. With this method, you can use just plain eggs or add your favorite omelet ingredients for a mini-omelet. The choices for additions are limitless, and the eggs bake up nicely right in your oven. This is a great way to serve a crowd because you don't have to stand over a frying pan while the eggs are cooking–you can visit and enjoy your company while your eggs are baking.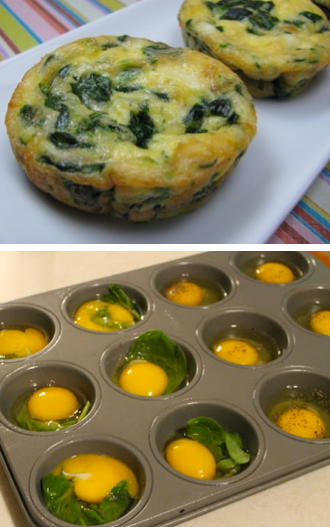 Directions
1. Spray each cup of the muffin tin with nonstick cooking spray.
2. Break an egg into each of the 12 muffin cups. Do this carefully so that you don't break the yoke. If you don't want a runny yoke, you can pierce the yolk with a fork before putting the muffin pan into the oven.
3. Sprinkle each egg with salt and pepper to taste.
4. Place the filled muffin tin into a preheated 350-degree oven and bake for at least 15 minutes. Check the eggs to make sure they are done. If they aren't cooked to your liking, you can return them to the oven and check every 5 minutes to see if they are cooked thoroughly.
5. Slide the baked eggs out of the muffin tins to serve after allowing them to cool for about five minutes. The cooling time allows the eggs to set up and makes them easier to remove from the muffin cups.
Read more: How to Cook Eggs in a Muffin Pan | eHow.com http://www.ehow.com/how_5623008_cook-eggs-muffin-pan.html#ixzz2C9ZQ16bQ