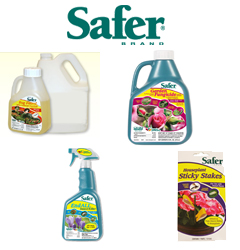 Time for another contest!
This month's contest is brought to you by Safer Brand, who specialize in organic pesticide and insect killer products.
You guessed it.
That means the prize is going to help you with those aphids, powdery mildew, white flies and any other insects or fungicides in your garden this year.
The prize is a gift pack of organic pest and fungicide sprays with a total retail value of $67.
The Safer Brand Gift Pack includes:
These will help with pretty much any and all pest and fungus problems your garden could face this year.
How to enter the contest
Head over to the my Facebook page, click on the contest and enter your email address or go directly to this tab.
Entries will be accepted through 11:59pm EST on Thursday, April 12, 2012 and are limited to those in the contiguous 48 states.
After you enter, head over to Safer Brand's Facebook page and leave them a comment to thank them for the great contest and prize.
Entries will be accepted through 11:59pm EST, April 12, 2012.
Don't forget to thank to Safer Brand and best of luck to you.