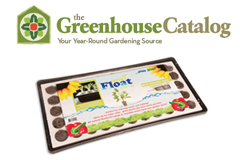 There were 268 comments left in the Smart Float Seed Tray contest courtesy of The Greenhouse Catalog
Thank you to everyone that left a comment and entered.
To choose the winner, I went to Random.org.
Entered the number range of 1 to 268 and hit "Generate." The number generated was 245.
The comments were ordered from newest to oldest and counted down. The 245th and winning comment was from "Sampshon" and was:
My brothers name is Michael too and therefore you had me at hello lol but I love the knowledge you share and your vibes is cool very inspirational.. my newfound love for growing has been nutured …now if I could just win a new kit to help nuture more seeds into wonderful edibles!!!!

Btw if I win the smart flow seed tray from the greenhouse catalog i plan on starting tomatoes and cucumbers …okra would be fun too!!
Your Turn
Miss out on this contest? Then be sure to enter your email address below for updates on the next one and for more urban gardening tips.