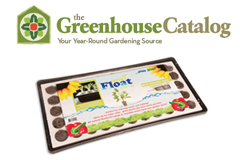 It's contest time!
This one is courtesy of The Greenhouse Catalog.
They specialize in year round gardening supplies and are one of my sponsors.
In the past few weeks, we've been talking a lot lately about seed starting advice, tips for beginners, what to start them in and labeling options on the site.
That's why they want to have this contest for you.
The prize is a Smart Float Seed Tray.
It retails for $26.95, but one of you lucky readers will receive one for free.
All you have to do is read this post and follow the instructions to be entered for your chance to win. The keywords there are follow the instructions.
Entries will be accepted through 11:59pm EST on Thursday, March 15, 2012 .
About the Smart Float Seed Tray
Dimensions: 21″ x 10″ x 2″
Comes with a tray and plugs to start 55-sets of seeds.
The insert floats, giving the seeds the constant access to the correct air/water ratio.
You can easily transplant the plugs into your garden once they are sprouted.
How to enter
Leave a comment below filling in the blank "If I win the Smart Float Seed Tray from the Greenhouse Catalog, I plan on starting the following seeds ________"
Offer is available to US residents only.
Entries will be accepted through 11:59pm EST, March 15, 2012.
Head on over The Greenhouse Catalog Facebook page and thank them for the contest. Best of luck!