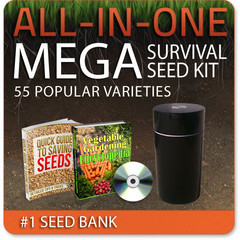 There were 266 comments left in the All-In-One Mega Seed Bank contest courtesy of SeedsNow.com
Thank you to everyone that left a comment and entered.
To choose the winner, I went to Random.org.
Entered the number range of 1 to 266 and hit "Generate." The number generated was 133.
The comments were ordered from newest to oldest and counted down. The 133rd and winning comment was from "paulitapera" and was:
Every crisis offers a beautiful opportunity for transformation. Having an emergency seed bank is important because by reclaiming the gift of seeds that our ancestors have given us, it empowers us to be the change, the solution, from the bottom up.
Limited Discount Offer to Everyone
Since SeedsNow.com was so happy with the response and all of the comments that were left as to why having an emergency seed is so important, they are offering up a 10% discount on their All-In-One Mega Seed Bank (which is currently $99.99) from today Monday, January 16 – Wednesday, January 18, 2012 when you make your purchase.
You just have to click here and use the code "giveme10now" when making your purchase.
Thanks again to everyone who entered and SeedsNow.com for the contest. Be on the lookout for another contest coming next month.