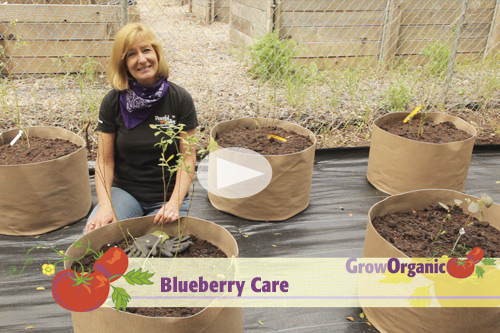 I'd like to introduce GrowOrganic.com as a sponsor of Urban Organic Gardener. I spoke with Autumn, the Marketing Manager at Peaceful Valley Farm & Garden Supply to learn more about the company. Here's the Q&A.
What does your company specialize in?
We carry everything you need to grow organic. We've been your one-stop shop since 1976 for organics. We specialize in supplying the organic gardener and organic farmer with safe, natural & organic fertilizers, pest control, growing supplies, seeds, and more! We also carry specialty seasonal items like organic garlic bulbs, organic onion transplants, organic seed potatoes, hundreds of varieties of fruit trees, not to mention bare root berries, veggies, and more.
Since we've been around since the beginning of the organic movement in the US, we have a wealth of knowledge and an amazing staff. Check out our weekly how-to videos and nicely paired, research based articles.
Better yet, get the videos delivered to your inbox with a 10% off coupon the products featured in the videos by signing up.
What is your best selling product?
With over 5,000 products for the organic garden, it's hard to choose a best seller. That being said, our own Certified Organic Vegetable seed line with over 225 varieties to choose from is quite popular along with our wide selection or organic fertilizers and pest control products.
What do sustainable and organic gardening mean to you?
To me, organic gardening means never using synthetic, petroleum based, or genetically modified organisms in my garden. Gardening organically means turning to organic insecticides or fungicides if necessary, preferably products that are registered with OMRI (the Organic Materials Review Institute). Organic gardens use plenty of organic matter such as compost to improve soil structure and mulch to reduce weed growth and conserve soil moisture. Finally, whenever available, your organic garden starts with certified organic seeds.
As for sustainable, I start with organic and local whenever possible. Use resources that are abundant in your area, ideally coming from your own yard! For example, I grow cover crops just for composting along with my other garden scraps so that minimize my compost purchases. Sustainable can also include conserving resources like water by using a water-saving drip irrigation system at night when you're least susceptible to evaporation. And when you can't create your own garden inputs, but all means buy organic!
What herb or veggie do you recommend for first-timers?
Borage! This beautiful, flowering herb is edible and grows like a weed. This hardy plant will produce hundreds of blue/purple flowers that are perfect for cake decorating, garnishing soups, colorizing salads, or simply for children to pick and eat in the garden.
What is your funniest gardening story?
When my son was 2.5 year old he would pick everything in the garden and immediately eat it. Green strawberries were gross, but he didn't learn. Red peppers are SPICY, but he didn't learn. He was so happy to run through the garden and pick every piece of immature fruit, I was simultaneously overjoyed and amazingly frustrated.
What's the one piece of advice that you wish someone gave you when you first started to grow your own?
Just start! You don't need a perfect plan, a beautiful fence, or raised beds. Just find a pot of soil or a little plot of land and dig in!
My second piece of advise? Plant one for you and one for the neighborhood pest. Pests can be persistent and mysterious. You don't need a pretty fence, but you will want a cage or something to keep the deer from devouring your lettuce. Creepy, crawly pests like to nibble, so use stakes to keep peas, cucumbers and more off the ground (and/or use an organic product to deter them). Birds love berries of course, and some love sitting on large leaves of chard while pecking holes in your dinner, so keep some bird netting or flash scare tape handy. Ultimately, plant plenty and embrace sharing your abundance with nature.
Be sure to check out GrowOrganic.com on Facebook and Twitter and YouTube.
Find out more about becoming an Urban Organic Gardener sponsor.